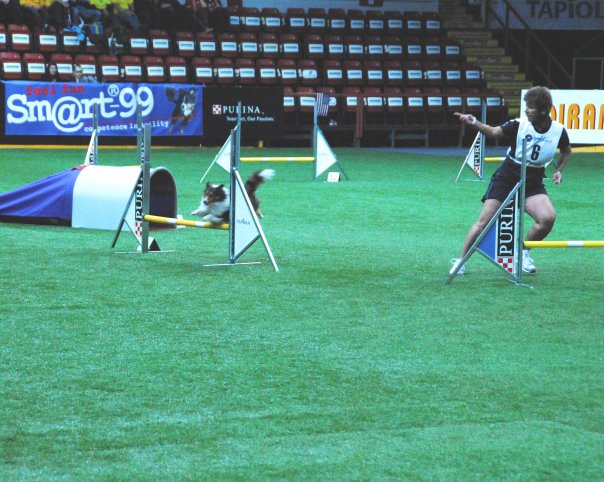 Joan Meyer began her dog training career in 1974 with a neighbor's 150-pound Saint Bernard. She taught him obedience, to go down slides, over the see-saw, and to jump bicycle racks. The love for dog training was known at this young age of 12.
In 1984, when graduating from Baker University with a Bachelor of Science in Biology, Joan's advisor made a wise statement to her when she questioned continuing her education in Physical Therapy.
He told her to DO WHAT YOU LOVE BECAUSE YOU MUST LOVE WHAT YOU DO. If doing something with dogs is your passion, follow your dream.
Instead of continuing her education to become a physical therapist, she worked for the Lawrence Humane Society. After two years of listening to all the excuses from people relinquishing their dogs, Joan decided to understand the dog's point of view. She wanted the dogs to stay in their homes. With her God-given talent of understanding what dogs are thinking and her ability to train them to be well-behaved members of society, she started her business. 1986 was the beginning of being an advocate for dogs. The business name Triune was chosen as a reminder to keep God first in her life while building her business.
Joan attended and graduated from the Midwest K9 Training Estates Master Instructor program in 1987. During this extensive program, she was taught how to read a dog's body language while working around wolves and wolf-mixes. A big part of the program was working with many different breeds of dogs that were given to the school as being untrainable dogs. The curriculum included the opportunity to teach them obedience, obstacle training, and basic manners. Some of them were trained to be personal protection dogs. After training and being able to pass all aspects of the program, these dogs were given another chance for a forever home. Joan was challenged with two of the worst dogs. Kong, an unsocialized purebred Chow, and Higher, a German shepherd and a 4-time failure of the program that had bitten 2 of its previous handlers.
With patience and understanding, both dogs passed their evaluation and were placed into their forever homes. Kong lived out his life with a retired man who loved to take him for walks and grooming him. Higher was placed with a security officer as his personal protection dog. He loved everything about her and used her confidence to help with his job to watch over one of the largest warehouse areas in Kansas City.
With the extra education, Joan learned to handle and work with many dogs that other trainers would not give a chance. Working with dogs that had aggressive tendencies gave her the opportunity to expand her understanding of what the dogs were thinking. Helping these dogs stay in their homes through training and behavior modification provided great satisfaction.
With the continual expansion of her business of educating pet owners, she found a new sport in 1992 called agility. She went all-in when she found this competitive sport of running an obstacle course with dogs. She attended as many seminars as she could to learn as much as she could. With continued training and learning, she set her goals on becoming a member of the USA World Agility Team. This dream became reality when she was chosen for the American Kennel Club/USA World Team in 2001 to compete in Portugal, France against 42 countries. This was an emotional trip for all of the team members, as they were going overseas to compete right after the devastation in our country on 9/11. We became the Dream Team when the Large Dog Team and the Mini Dog Team both stood on the podium to receive their Gold and Silver medals to show that our country will never quit.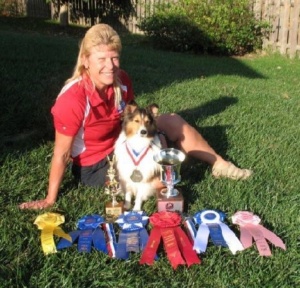 Since that time, Joan has been on the AKC/USA World Team 2 additional times, the AKC/USA European Open team 4 times, has won a triple national championship with the USDAA Cynosport World Games, achieved the #1 Shetland Sheepdog Top Dog for the AKC Invitational, #2 AKC National Championship winner, #2 Agility Invitational winner, #5 AKC TopDog in Agility MACH Competition for All AKC Recognized Breeds at a Jump Height of 12 inches in the history of agility, #5 AKC Top Dogs in Agility MACH Competition for All Shetland Sheepdogs in the history of agility, and has earned with one dog 30285 Lifetime MACH points with 340 Double Qs.
Another dream of Joan's from the start of agility was owning a complete dog training facility and event center that offered a variety of training from puppy training to competition levels and the ability to hold competitions in agility. She has now been blessed again with her dream of Triune Canine Training and Event Center opening March 2018.