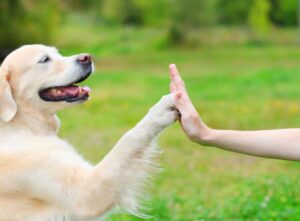 We are proud to to be a certified AKC evaluator for the Canine Good Citizen test.
The AKC Canine Good Citizen test is priced at $25 per dog by Paypal and is non-refundable.
Please book your spot below.
If your dog is not quite ready for the test we recommend our Advanced Obedience/CGC classes.
AKC Canine Good Citizen Test Items:
Accepting a friendly stranger

Sitting politely for petting

Appearance and grooming

Out for a walk (loose leash walking)

Walking through a crowd

Sit and down on command and staying in place

Coming when called

Reaction to another dog

Reaction to distraction

Supervised separation
Collar, Leashes and Equipment
All tests must be performed on leash. Dogs should wear well-fitting buckle or slip collars (including martingales) made of leather or fabric. They may also wear body harnesses for the CGC test. Body harnesses should not restrict the movement of the dog. Special training equipment such as pinch collars, electronic collars, and head collars are not permitted. The leash should be made of either leather or fabric. Retractable leashes may not be used in the CGC test.