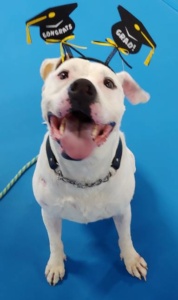 Dog Obedience Classes, Family Dog/Manners Classes, Canine Good Citizen, and Therapy Dog Training Classes
Next session begins October 10, 2023
Registration closes October 4, 2023 at 12:00 pm
Classes Meet Once a Week for Four(4) Weeks
$150 for a Four Week Class
Class sizes are limited
Minimum of Three (3) Dogs Enrolled for a Class to be Held
All classes are taught using positive reinforcement methods. No retractable leashes, choke collars, pinch collars or shock collars will be allowed. Please bring an abundance of very high-value treats for the classes.
To promote a safe and fun environment for all dogs and handlers, all dogs enrolled in these classes must be friendly with other dogs and humans. No refunds will be given if dog is enrolled and then shows aggressive behaviors.
Private lessons are $65 per half-hour time slot for all types of training including Agility, Family Manners, Puppy Training, Obedience skills, and behavior modification.  Use this link to schedule private lessons with Joan.
Instructor:  Joan Meyer
Obedience, Basic & Familiy Manners, Canine Good Citizen (CGC) Prep, and Therapy Dog Training Class Schedule
Please note:  No refunds will be made unless a written request is received by September 27, 2023.
Obedience, Basic & Familiy Manners, Canine Good Citizen (CGC) Prep, and Therapy Dog Training Class Descriptions:
Family Dog -  Basic and Family Manners– Ages 3 months and up.
This class is designed for all dogs from 3 months and up working towards being a well-mannered canine companion.   We will work on basic manners and common problem behaviors such as dogs jumping on people and barking along with basic obedience commands such as sit, down, stand, stay, working with distractions, and loose leash walking. We will help you with canine impulse control including not running out of open doors and waiting for food - everything to make your 4-legged friend a well-behaved family member.
Advanced Obedience/CGC Prepartion – Prerequisite: Completion of Basic and Family Manners
Building on the basic manners class, this class will continue working on skills learned such as walking on a loose leash, sit and stay, down and stay and coming when called. We will be adding duration, distance, and bigger distractions, to this reality training class. 
Therapy Dog Training - 8 week class - Prerequisites: Ages 1 year and up, Canine Good Citizen certification earned when the dog was at least 1 year old.
This class prepares you and your dog for social visits to hospitals, nursing homes, to reading programs at schools, libraries, and visits to other public settings. Therapy dogs and their owners work together as a team to improve the lives of other people.

Dogs must have Canine Good Citizenship certification that was received after they were 1 year old to enroll in this program.